Media success. Reach and relevance.
If you don't reach your buyers through the right channels at the right time with highly relevant messaging, your competition will. Buyers today are self-directed, multi-channel, mobile, social and skilled at ignoring irrelevant messages, ads, and offers.
Effective media targeting nets results.
One of the core success secrets to a successful demand generation program is you must engage buyers throughout their journey – in the right channels, at the right time, and with relevant content and a compelling call to action. Irrelevant messaging via ineffective media channels can do more harm than good. To produce results, media campaigns needs to be set up and continually optimized to realize a positive RIO and drive revenue growth.
Predictive media targeting.
Predictive demand generation determines the prospects that are the best fit for your product or service, and the most effective media channels to reach them. Instead of casting a wide net and wasting money trying to reach everyone, you can focus your time, budget, and resources on reaching the right audience(s) through the right media channels.
Integration drives growth.
Savvy marketers know that to produce results that drive ROI and revenue growth, you need an integrated and strategic approach to paid media, synchronized earned and owned media channels, and optimization and analytics that track and report performance throughout the customer journey.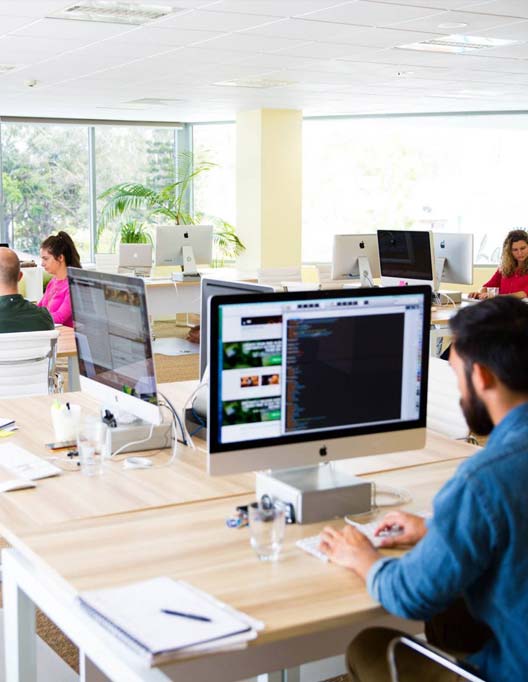 86% of marketing professionals agree that successfully integrating and optimizing multiple media channels under a single integrated marketing strategy is crucial to their long-term success.
Media Services and solutions from BIG IDEA.
We meet your target buyers through the most effective channels allowing us to deliver relevant, engaging and compelling content that produces results. Leveraging predictive targeting and other techniques allows us to focus time, budget, and resources on reaching the right audience(s) through the right media channels.
Media expertise and more.
BIG IDEA provides experienced strategists, planners and buyers who create value in broadcast, digital, print, out-of-home, and social media. In addition to our media expertise, you get a partner with decades of marketing, sales, and enterprise business experience. We will identify and embrace your unique business goals, strategy, lead management processes, technical use case, target audience and the needs of internal stakeholders to tailor solutions that meet your revenue growth and business goals.
Effective media programs and best practices.
Here are some of the best-practices-based methods we use that make our media programs so effective:
Media choices informed and directed by predictive modeling and custom audience development.

Informed by in-depth audience research and detailed target profile development.

Integrated across channels and with stages of the customer journey.

Multi-channel delivery throughout the total customer journey.

Directed by data insights from real-world campaign results.

Optimized to improve conversions and revenue performance.

Real-time performance tracking and monitoring.
Integrated multi-channel media programs.
Multi-channel media program will leverage a strategic mix of the following channels:
Predictive Media Targeting and Buying.

Programmatic Ad Buying.

Paid Search.

Remarketing.

Retargeting.

Predictive Audience Modeling.

Search Engine Optimization (SEO).

Online Events.

Website, Microsite, and Landing Page Conversion.

CPA programs.

Traditional Events.

Teleprospecting.

Telenurture.

Industry Association Marketing.

Conversion and Campaign Optimization.

Acquisition Email.

Display Advertising.

Paid Social.

Affiliate Marketing.

Reporting and Analytics.
Want to learn more?
Select one (or all) of the following:
I'm interested. Let's talk.